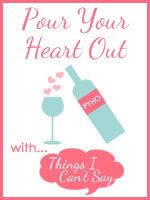 I'm linking up with Shell at
Things I can't say
for her PYHO meme.
When the kids were young I used to dream of the day when the house would be quiet and I could be alone with my husband.
Then the kids grew and we became empty nesters.
We enjoy the time we have alone together.
The dinners, the shopping, the vacations, the last minute weekends away and the privacy.
The stimulating conversation that doesn't center around the kids, we sacrificed a lot to get to this place.
But the grass is always greener.
Isn't it?
I started to wonder.
What it would be like to spend some time by myself, maybe just a few days.
I know I would never do something so daring as vacation alone but.....
What would I do?
If I were truly alone for a day or two.
Would I stay in bed all day, read a great book, take a long bath, lunch with my gal pals?
My husband decided to take a last minute trip with our son yesterday.
And what have I done?
My house is spotless!
And how have I done?
I'm taking my Mom to dinner tonight.
I'm lonely.
And I used to dream!